Community Family Health Center
Primary medical care • Dentistry • Pharmacy
Primary care, Dental, and Pharmacy Services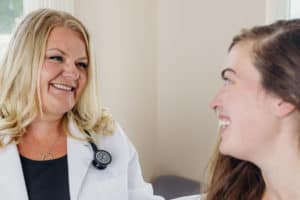 SpringVale Health Centers offers primary medical care, dental, and pharmacy services for children and adults of Tuscarawas county and surrounding areas. We are a Federally Qualified Health Center (FQHC), and we are available to persons of all ages, regardless of their insurance status. SpringVale Health Centers accepts Medicaid, Medicare, most private insurances plans, and offers a sliding fee scale based on household income for those who are uninsured.
Our friendly and professional staff is available to help you get the care you need, when you need it. Unlike the emergency room or stat care service, our goal is to focus on you as a person, establish a long-standing patient-doctor relationship, and be your single source of primary healthcare. In doing so, we can ensure better diagnosis, faster treatment, and a higher quality of care for you and your family.
Primary Care
Find the right primary care options for you.
Dental
Your oral hygeine is critical to your overall health.
Pharmacy
Our pharmacy is available to everyone.
Quality Care for the Entire Family
Community Family Health Center in Dover can now be your family's medical home for regular doctor visits serving all ages.
Primary Family Care
Physicals
Treatment of Allergies
Pediatric Care
Well-Women Care
Mens' Health
Chronic Disease Management
Adult Care
Treatment of Sports- & Work
Related Injuries

Examinations



Elderly Care
Dental & Dental Hygiene
Medication Assisted Treatment for Opioid & Alcohol Addiction
Pharmacy
Accepting Medicaid, Medicare, Most Private Insurance Plans & Sliding Fee
SpringVale Health Centers and Community Family Health Center accept all forms of Medicaid offered in Ohio, including CareSource, Molina Health, United Health, Paramount Advantage, and Buckeye Healthcare. SpringVale and the health center also accept Medicare, private insurance plans, and offers a sliding fee scale based on household income for those who are uninsured or those whose insurance does not cover a needed service.
Community Family Health Center
Closed Saturday, Sunday, and holidays
schedule an appointment today